Transmatics provides transcription and information management services to hospitals, integrated health care facility networks, medical clinics and physicians as per AAMT guidelines with complete customer satisfaction, high accuracy and fastest turnaround. We utilize state-of-the-art infra- structure, dictation platform, well-qualified and experienced transcriptionists, and high-end software technologies to provide end-to-end solutions for transcription requirements.
Transmatics offers an end-to-end medical transcription solution for Physician Groups, Surgical Centers and Hospitals. The robust and user-friendly software platform drives the entire chain of activities in the medical transcription workflow - from the moment a voice dictation is sent, until the document is returned.
Transmatics is dedicated to providing timely, accurate medical transcription services with guaranteed turn-around times. Transmatics uses state-of-the-art network technologies for secure access, and can install digital dictation systems or make use of your current dictation system to transmit critical patient medical information. Whatever your transcription needs may be, Transmatics can provide the solutions that you need.
The process is completely transparent to our client and yet receives customized reports and documents of uniformly high quality, accuracy in an efficient manner with significant cost savings.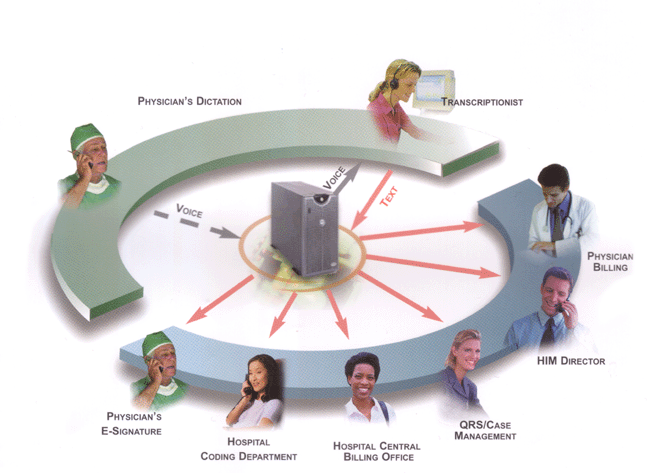 Medical Transcription Services
Our Medical Transcriptionists are specialized in transcribing reports like:
Initial Evaluation and Management
Independent Medical Evaluation
History and Physical Examination Reports
Consultation
Operative Notes
Progress Notes
SOAP Notes
Discharge Summary
Pathology Report
Radiology Report
Autopsy Report
Psychological Report
Labor and Delivery Notes
Emergency Room Notes
And many more…..
Medical Transcription Process
Our unique 4-stage process plan to ensure your outsourcing success -
Our Medical transcription process encompasses capturing doctor's dictation using a toll free dial in server. The doctors will be provided with toll free number for dictation. The doctors record their dictation; once the dictation is completed, it will be converted in a WAV file format and will be available directly in our secure FTP server.


Our Transcriptionists are well-trained, proficient and knowledgeable with American Association of Medical Transcription (AAMT) guidelines and Medical Terminology listen to the voice recordings of the doctors or other health care professionals and transcribes the voice files to text files and subsequently checking spelling and grammar errors.


The completed transcripts undergoes 2 levels of Quality Control Audits - check for spelling and grammatical errors, review each report checking for context errors and ensure client specifications.


The transcripts can be delivered in any word processing format either through email or directly upload it in our server so that you staff can download it. This is performed by 128 SSL bit encryption for complete patient & provider confidentiality..
Data Information Security
With Transmatics state-of-the-art digital dictation service, toll-free number and the personal account number and password, no set-up or special equipment is needed. Our Internet System includes series of security measures to ensure secured privacy including -
Secured 128-bit encryption, unique login ID, and user defined access parameters.
System runs on a secure server, which encrypts all data communication between your computer and our server.
Transmatics security levels meet all the HIPAA regulations which are related to Electronic Transmission of Patient Information. Authentication and encryption is applied to all data transfers in order to meet the terms of HIPAA security standards.
Why our Transcriptions
Cost Savings 20-50%
Our competitive pricing per line guarantees you savings of 20% to 50%. A complimentary detailed cost-analysis can be provided to you for comparison to your current transcription service.
Accuracy Guaranteed
We guarantee a minimum accuracy of 99%. Our multi-level quality control process, together with MTs assigned specifically to your account ensures the quality, consistency and accuracy of your transcription.
Turn Around Time (TAT)
Guaranteed 12 hour turn-around of dictations. STAT requirements accommodated.
No Lost Dictations
You never have to worry about lost dictations or transcriptions with MedTek. Our system provides real-time tracking from the instant a dictation is made to until the transcription is completed.
Multiple Delivery Options
Our system offers multiple delivery options, allowing you to choose how you would like to receive your transcriptions.
Web access to all of your medical records is available 24/7 from any Internet-enabled PC.
Automatic printing of reports to any location.
Secure e-mail to your desktop.
Download reports directly to your PC or network.
Fax service.
Customized delivery solutions to meet your specific needs.
Ease of Use
Our System is robust and user friendly and allows real-time viewing and control of the entire dictation to delivery process. You are never more than a few mouse-clicks away from access to your medical records.
Customer Service
Our staff is available 24/7, 365 days a year to provide your facility with customer service and technical support. The combination of quality MT's, leading technology and comprehensive support results in outstanding service that your healthcare enterprise can depend upon.
Seamless Transition
Transmatics knows that different healthcare organizations have different transcription needs. Therefore, we ensure that our system integration meets the specific requirements of each customer. Dedicated teams put a significant amount of resources into communicating and interacting with our customers to provide custom-tailored solutions that address all areas of medical transcription practices. The main objective is to minimize or eliminate any disruption or change of procedures for your physician users.
Digital Signature
Physicians can electronically sign their reports from anywhere, anytime.
No Set-up Cost
Your facility will incur no costs to get set-up with our medical transcription service.
Technology Infrastructure
Our servers are located in an advanced data center providing the highest available level of security, reliability, and speed. Transmatics scalable architecture makes up the best choice for the large volume organizations and multi-facility healthcare systems.
HIPAA
Our system exceeds HIPAA requirements for security. All data is 128-bit encrypted. Firewalls and extensive network security are in place to assure confidentiality and privacy of all records.
Easy EMR Integration
Transmatics system easily integrates with EMR programs.
For more information on Medical Transcription Services, please contact us at 91.930.002.7559 or email us at info@transmatics.com