Are you annoyed of taking calls while at your office, amidst important business meetings, theatres and restaurant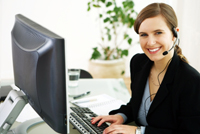 s? Do you prefer leaving the calls as voicemail rather than attending it? Well, for the ones like you Transmatics offers excellent voicemail to text conversion services that enables you to check your voicemail messages as text or email.
Cell phone service providers do not offer a scheme to save your voice mail messages permanently. Instead of losing voice mail that contains valuable information now you can save them as emails by our best voicemail to text transcription services. The voicemail messages saved as text or emails are easily accessible, searchable and ever lasting.
Apart from individual mobile users who often look out for phone voicemail transcription services, Transmatics serves numerous corporate companies who would like to get voicemail messages and phone voicemail messages documented. The transcription of voicemail message into text or email is useful for documentation of valid data for official purpose, to maintain company records and to share it among remote office locations.
We offer pioneer speech to text transcription services. We can transcribe any length of your voicemail messages that are recorded in telephone answering machines, iPod, mobiles, and Internet chat messengers. Transmatics masters in the transcription technology to provide excellent voicemail transcription services to our clients.
For more information on Voicemail Transcription Services, please contact_us at 91.930-002-7559 or email us at info@transmatics.com